See on Scoop.it – Story and Narrative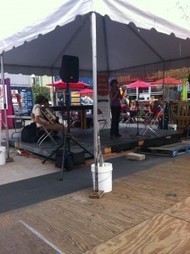 A couple of weeks ago I attended a small-business story slam at Dekalb Market in Downtown Brooklyn. "Lessons Learned the Hard Way" featured about a dozen Brooklyn small business owners and entrepreneurs briefly sharing funny (or tragically funny) experiences they've had along the way. The event was sponsored by Smallknot, one such business that helps locals invest in the small companies they love and want to support.
As each speaker took the stage — a small tented area complete with an accordion player who softly chided speakers offstage when their stories went past the five-minute mark — you could feel a swelling of support from the seventy or so people in the crowd. Listeners chuckled lightly (or heartily, sometimes) at comedian and host Max Silvestri and at stories of the gaffes made by the entrepreneurs as they established themselves as business owners.

See on blog.pcmaconvene.com